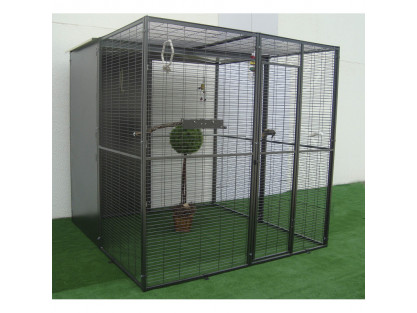 3 PERFECT AVIARIES FOR SUMMER
Summer is here and the best plan can be enjoying the nights with your birds in the garden. 
In Jarpinpet, our aviaries for small and birds, give more than a simple place for flying. 
We make a place in which the owners and their pets can be together. 
The modular concept of that outdoor aviaries allows you to increase them the space in the future, customize the aviary taking in account the necessities of every bird or specie.
Garden aviaries are the perfect place for your birds. 
We are delighted to recommend you our 3 best sellers models in JARDINPET.
SMALL BIRDS AVIARY IMOR WITH DOOR
We present you our garden aviary IMOR for small birds such us canaries, finches, goldfinches, …
The aviary is equipped with a panel with access door to make easier to access inside, with a roof of two slopes.
https://www.jardinpet.fr/en/aviaries-for-large-birds/83-2-sqm-garden-aviary-with-door-imor.html
Aviary for big birds IMOR OF 2M².
This is the ideal aviary for lovebirds, nymphaes, parrots, macaw, etc.
The aviary is composed of 3 metal mesh panels covered with a special paint nontoxic for animals, friendly environment and with a high resistance against the rust and with 2 windbreak panels with the same specifications. The mesh is specially designed to allow to the animals to climb without any risk to suffer damages or injuries in their joints or muscles. 
https://www.jardinpet.fr/en/aviaries-for-large-birds/21-voliere-de-jardin-de-2-m2-avec-toit-a-deux-pentes.html
Garden aviary IMOR for parrots of 4m² with two slopes roof.
High quality materials, large space and design specially thought until the minimum detail to make to your birds like at home.
The aviary has a panel with access door to allow enter and out to the user easily. The door has a block system to use different types of blockers. You will be inside without problems due to its high of 195 cm.  
https://www.jardinpet.fr/en/aviaries-for-large-birds/24-voliere-pour-perroquet-de-4-m2-avec-toit-a-deux-pentes.html
Don´t forget that we also offer a customizing service to make your aviary with the measures that you need. Contact us to info@jardinpet.com.