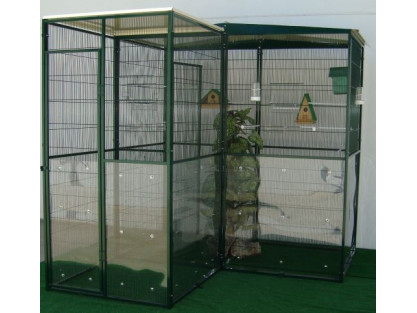 How to make the good choice for your aviary?
It is important to take the time to make the right choice of aviary, because it is about choosing the living space of our pets, because it is the place where they will spend a very large part of their time, the aviary where they will grow, the one where they will flourish in the relationship that we will build with them.
Key points to monitor :
Which kind of birds will live in your aviary? How many will they be inside?
Dimensions of the location where you think to build your aviary to define number of panels you might need.
The location of the aviary will be particularly important to choose the type of roof of the aviary as well as the number of opaque panels that may be needed to properly protect your birds inside the aviary. If the aviary is installed outdoors, consideration should be given to the hours of direct light that will influence the life of the birds inside to allow them to enjoy them sufficiently while protecting them. In addition, you need to think about sheltering them from the rain and the surrounding nuisances that could also be a potential source of stress for them. It will also be necessary to consider opaque panels based on these potential nuisances and the potential origin of the wind if the aviary is installed in a potentially exposed area.
Another important point to define is the number of entrance doors you will need in your aviary to access all the spaces without stressing your birds too much.
Feeders and water troughs have to be installed in enough quantity depending of the the number of bird inside your aviary
If you have males and females in your aviary, it will be important to think about where to install the nest at the time of reproduction.
In addition, you need to think about putting enough accessories and toys inside the aviary so that your birds can benefit from an environmental enrichment in line with their needs to grow in good conditions within your aviary.
The last fundamental question is the ground on which your aviary will be installed to correctly define the appropriate type of anchor and thus ensure its stability and safety.
In summary, the species of bird, the number, the type of roofs, the exposure, the number of opaque panels, the doors, the troughs, the feeders, the nests, accessories and anchor points are the points to master to define in the best way the ideal aviary for you!