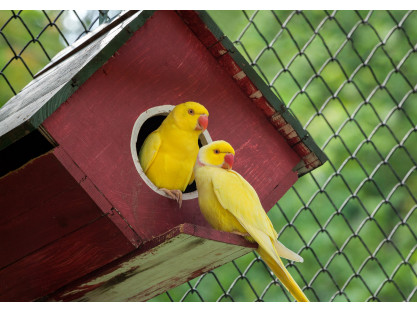 CANARIES BREEDING
The canaries by their diversity of plumages and the quality of their song make this bird one of the most common in houses for centuries. Although, if we talk about their reproduction is something a little more complex.
In order to begin in these modules we would be able to avoid trouble with the distrust of our males thanks to the double separators that integrate, in first place with the opaque one so that the females begin only listening the song of the males and in second place the grids so that  they can begin to see and take contact.
For their nesting chicks. When they are born, they are not being fully developed, so their care must be correct increases if we want to make sure they reach adulthood.
The IMOR breeding modules are ideals, because they are opaque on three of their four sides, the nest is protected from air currents and direct exposure to the sun, reducing abrupt changes in temperature which are one of the most important factors to control. Another characteristic is that they are easy to clean without having to put your hands in the cage and reducing the stress of the mother who could leave the nest. 
In addition to being able to stack several modules easily and comfortably.